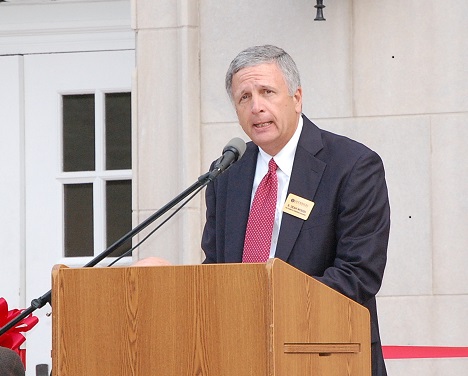 Dean Woods has been named as the new President of Foothills Community Foundation. Woods currently serves as Vice President for principal gifts and special assistant to the President at Anderson University. Mr. Woods replaces Robert M. Rainey who is retiring. Board Chairman John A. Miller, Jr. expressed his utmost confidence in Woods' leadership ability.
"Our executive search committee had the opportunity to review nearly thirty candidates for this position over the past several months. At the end of the process, the entire Board of Directors enthusiastically agreed that Woods is the ideal person for the job. Dean is well known for his experience and integrity, both at the University and throughout the region," said Mr. Miller.  "His desire to improve the well-being of people is evident in all that he does.  The Board of Directors looks forward to this new chapter in the history of the Foundation", Mr. Miller added
Mr. Woods brings over twenty-eight years of development and fundraising experience to the Foundation. A native of Easley, Mr. Woods is a graduate of Anderson University where he served as president of the SGA. He holds degrees from Furman University and the Southern Baptist Theological Seminary.
"I have mixed emotions about leaving my long-term position at Anderson University" said Mr. Woods. "It has been a privilege and honor to work with several outstanding presidents and many very talented colleagues. However, as CEO of the Foothills Community Foundation, I will still be able to work indirectly with AU as well as many other worthwhile organizations in our region that make a difference in so many lives." Mr. Woods will officially assume his new duties as President on January 23, 2017.